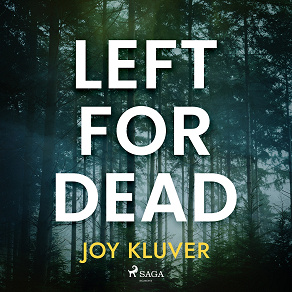 Isbn:
978-87-2852-944-7
Publisher:
Saga Egmont
Category:
Novels
Crime & Mystery
Accessible since:
November 2022
Narrator:
Claire Trusson
Length: 10 hours 19 minutes
---
Left for Dead
When DI Bernadette Noel hurries to Keira Howard's hospital bedside, she knows that Keira has been lucky. Barely conscious and badly injured, at least she is alive. Convinced that Keira's attack is the latest in a string of increasingly violent assaults on young women in the area, the next victim might not be so fortunate...

Vowing to find the culprit, Bernie spurs her team into action and quickly hones in on a prime suspect. But when he suddenly dies while on police watch, Bernie's investigation goes into freefall and new questions arise: If it was murder, who would want him dead, and why?

Bernie determines to set out on her own to find out what happened, but the closer she comes to discovering the truth, the more she is putting her own life in danger. And with Keira finally strong enough to talk to her about her attack, Bernie worries she may be at risk yet again. There's someone out there who has killed to stay safe in the shadows; can Bernie stop another senseless death and save Keira before it's too late?

An utterly compelling crime thriller, full of twists and suspense, perfect for fans of Val McDermid, Angela Marsons, and Cara Hunter.

What readers are saying about ´Left for Dead´:

'With its excellent plot and pacing, I had difficulty putting this book down. Left for Dead was such a compelling read, and I relished every moment.' - Rubie Reads

'Wow what a book... I don't want to say anymore as it could spoil the book for others but this is an excellent story and I have loved every second of reading it. BRILLIANT!' - NetGalley reviewer

Joy Kluver has been an avid reader and writer since childhood. A book blogger, she's also part of the First Monday Crime team and if you've been to any of their events it's likely you've eaten one of her cookies. She also organises author talks for her local library. She has written three DI Bernadette 'Bernie' Noel books – 'Last Seen', 'Broken Girls' and 'Left For Dead', and the series has been shortlisted for Best New Kid on the Block (best new series) in the Dead Good Reader Awards 2022.
Listen to sample
---