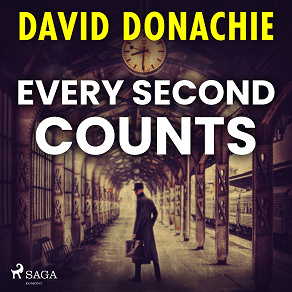 Isbn:
978-87-2837-114-5
Publisher:
Saga Egmont
Category:
Novels
Crime & Mystery
Accessible since:
November 2022
Narrator:
Russell Bentley
Length: 10 hours 17 minutes
---
Every Second Counts
1940. Dunkirk is over? Will Britain fight on or talk peace?

Fugitive and Hitler admirer, Billy Houston, craves a Nazi-run Britain. Needing money and intent on burglary, it ends in murder. But he's in luck, his victim has in his possession the entire anti-invasion plans for Southern Britain, this while Armistice talks are slated to take place on the Isle of Wight.

A desperate Billy makes contact with Rudi Graebner, a German naval officer and spy embedded in the Spanish Embassy. The two have nothing in common - they instinctively take a dislike to each other and trust is at a premium. But even so, they must work together to get the plans to the German delegation, as Billy wonders if he's at as much risk from his glory-seeking German agent as the MI5 pursuit.

Adam Strachan, Deputy Director of Counter-Espionage at MI5, faces his greatest challenge. Working with detectives from Scotland Yard, he must find Billy Houston and the National Defence Plans. But his quarry enjoys an amazing run of luck. Time after time, they evade capture by a whisker.

Will Houston and Graebner succeed, or fall out? If they do, Hitler will be able to make demands to so weaken the country, it will leave Britain weak and wide open, very soon, to a future German invasion.

Perfect for fans of Ken Follett, Alan Furst and Samuel Marquis.




Listen to sample
---