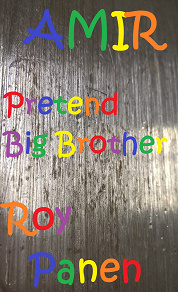 AMIR Pretend Big Brother
Amir, 9 years old, is persecuted and hunted by three older boys, 11-12 years old. When it's at its worst, because Amir has been intimidated by them, he dances to pop king Michael Jackson. And he has trained in many nice moves. This helps him feel a little better, and he can be happy again.
The bullies are really disgusting towards Amir. His parents have tried to get help from their parents and the school. But nothing has helped.
Amir thinks he needs a big brother who can protect him from the bullies. And one day, he meets Daniel, who is eighteen years old, blind, and gay. Daniel becomes like a best friend. He helps him, puts the police on the bullies, and scares the shit out of them. There is a fantastic change going on that Amir could not even dream of.
And Daniel teaches him to swim. Amir loves to bathe and swim.
(For more information and sample reading, see: www.panen.se)
Read sample
(Download)
---