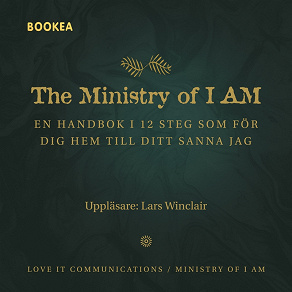 Isbn:
978-91-8937-341-9
Publisher:
Bookea
Category:
Psychology
Accessible since:
April 2021
Narrator:
Lars Winclair
Length: 9 hours 1 minute
---
The ministry of I am
Den här boken är, trots sin titel, skriven på svenska. Den är en modern version av Tolvstegsprogrammet med ett perspektiv från En Kurs I Mirakler. Den ger dig också tillgång till "hemligheterna" som burits av mystiker sedan urminnes tider och som påvisas av den moderna vetenskapen inom kvantfysik. Den representerar inte den absoluta sanningen. Men den visar dig vägen dit. Boken ger dig inte bara insikt om den oändliga kraft du har inom dig, den ger dig också viktiga praktiska verktyg som hjälper dig att finna sann frid, hälsa och lycka. Allt du behöver finns redan inom dig och dessa 12 steg tar dig hem till allt detta, hem till ditt sanna Jag.

"12-stegsrörelsen har i mer än 80 år genom personlig utveckling och andlighet hjälpt miljoner människor till att hitta tillbaka till livet igen. En Kurs I Mirakler har i nära 50 år hjälpt miljoner att hitta hem i sina hjärtan och till själen. I denna bok kombineras dessa båda krafter på ett enkelt men radikalt fungerande sätt. Detta är inte bara en bok, det är en ny andlig rörelse".
Listen to sample
---