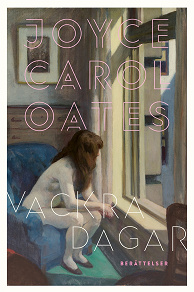 Isbn:
978-91-5076-663-9
Publisher:
HarperCollins Nordic
Category:
Novels
Accessible since:
October 2020
---
Vackra dagar
I novellsamlingen Vackra dagar utforskar Joyce Carol Oates sina protagonisters hemliga, intima och dolda inre liv. Människor som, likt de flesta av oss, tvingas stå upp för sig själva genom modiga och ibland oåterkalleliga val.

Läsaren får bland annat ta del av Oates rikt sinnliga prosa i berättelsen om det otrogna paret som lovar varandra total uppriktighet och ärlighet, precis det som de saknar i sina äktenskap, vilket får helt andra konsekvenser än de väntat sig. I en annan berättelse, med de frodigt tecknade Adirondackbergen som fond, utnyttjar en beräknande och manipulativ universitetsprofessor en alltför godtrogen kvinna på ett sätt hon aldrig hade kunnat förutse. Och i ännu en novell får läsaren möta en ung afrikansk man som studerar på ett amerikanskt universitet. När han utan förvarning blir av med sitt visum testas hans mod till yttersta gränsen. I Vackra dagar, precis som i Joyce Carol Oates övriga prosa, visar författaren prov på sin fascination för de sociala, psykologiska och moraliska gränser som styr våra handlingar – till den avgörande tidpunkt då de inte längre gör det.

***

Joyce Carol Oates, född 1938 i staten New York, är en av USA:s mest betydande författare. Oates har utmärkt sig som en av de största inom den samtida amerikanska litteraturen och har tilldelats flera priser; bland annat National Humanities Medal, National Book Critics Circle Ivan Sandrof Lifetime Achievement Award och PEN/Malamud Award. Oates har nominerats till Pulitzerpriset och skrivit några av vår tids mest angelägna verk inklusive de bästsäljande romanerna Blonde, som nominerades till National Book Award, och New York Times-bästsäljaren Fallen som tilldelades Prix Femina 2005. Oates vann också 2019 års Jerusalempris, ett internationellt litteraturpris som tilldelas författare vars verk behandlar mänsklig frihet i samhället. Joyce Carol Oates är verksam vid Princeton University och har varit medlem av American Academy of Arts and Letters sedan 1978.
---