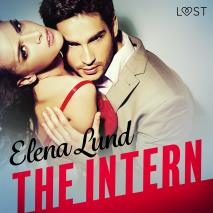 Isbn:
978-87-2629-995-3
Publisher:
LUST
Category:
Romance
Accessible since:
May 2020
Narrator:
Lily Ward
Length: 35 minutes
---
The Intern - Erotic Short Story
"Turn around", she says. And of course, he turns around. His ass is strong and soft under Linda's hands. She grabs his buttocks and spreads them. She can hear him gasp just before she leans forward and licks him there. The scent is both stronger and discrete here, less perfume but a lot more Lucas. She starts by letting her tongue wander from his balls and upwards, past his anus and to his lower back. She does it twice, no three times. Then she slowly licks him around his anus.
Most people can probably relate to the intern who has a crush on the boss, and this intern makes sure she gets what she wants. When they touch each other for the fifth time, she is the boss. A perfect erotic short story for those who like excitement and forbidden people and places.

Elena Lund is a pseudonym of a Swedish erotic writer. With her stories, Elena aims to challenge our preconceived ideas of desire and norms. She writes erotica that places the reader in new, unexpected and sexually charged situations.
Listen to sample
---