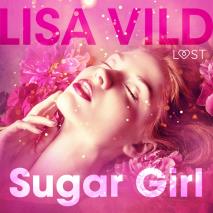 Isbn:
978-87-2629-516-0
Publisher:
LUST
Category:
Romance
Accessible since:
May 2020
Narrator:
Lily Ward
Length: 41 minutes
---
Sugar Girl - Erotic Short Story
It has been a year since Ella started working as a cam girl. She meets an older gentleman online, and he promises to give her everything that she could ever want in exchange for one thing: her company. Ella's summer as a sugar baby is full of fancy dinners, expensive clothes, trips and most importantly, it is a continuation of her sexual awakening. But when Ella runs into an old boyfriend, everything reaches a turning point, and she is forced to make a choice.
Sugar Girl is the second short story in the series about Ella, a young and inexperienced woman who explores herself and her sexuality. Sugar Girl is the free-standing sequel to Cam Girl.

Lisa Vild is a pseudonym for a Swedish author of erotic short stories. In her stories, she explores sensitive but tantalising topics. Lisa thinks that sex should be for everyone and with her short stories she hopes to paint a normalised and nuanced picture of sex. If her stories are based on her own experience or not, we leave unsaid.
Listen to sample
---