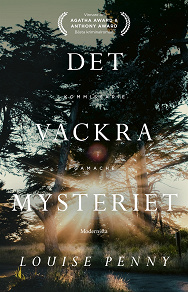 Isbn:
978-91-7781-714-7
Publisher:
Modernista
Category:
Crime & Mystery
Accessible since:
March 2019
---
Det vackra mysteriet (En kommissarie Gamache-deckare)
Vinnare av Agatha Award, Anthony Award och Macavity Award för »Bästa kriminalroman«

»Sensationell deckare - Louise Penny fortsätter att höja ribban för sin lysande serie.« People Magazine

Inga utomstående ges någonsin tillträde till klostret Saint-Gilbert-Entre-les-Loups, djupt inbäddat i den vilda naturen utanför Québec, där ett tjugotal munkar lever i frid och bön. De odlar grönsaker, föder upp kycklingar och producerar choklad – och de sjunger.
Ironiskt nog för ett sällskap som har avgett tysthetslöfte har munkarna blivit världsberömda för sina underbara röster, så effektfulla när de höjs i uråldriga mässor att de blivit kända som »det vackra mysteriet«.
Men när den beundrade körledaren en dag hittas mördad öppnas låset på klostrets massiva träport för kriminalkommissarie Armand Gamache och Jean-Guy Beauvoir från Québec-polisen. Där upptäcker de dissonans i den skenbara harmonin. En av bröderna har, mitt i tillvaron av bön och kontemplation, haft mord i tankarna.

LOUISE PENNY är en kanadensisk deckarförfattare som översatts till trettio språk och sålt över tre miljoner böcker bara i Nordamerika. Hennes deckarserie som fått henne att kallas en modern Agatha Christie utspelar sig i Québec i Kanada, med kriminalkommissarie Armand Gamache som huvudperson. Louise Penny har vunnit The Barry Award, The Agatha Award för Bästa kriminalroman (fyra år i rad!) och Anthony-priset två gånger.

»För alla som saknar Agatha Christie – och kanske vill ha något ännu bättre.« Jenny Rydqvist, Sydsvenskan

»Somliga böcker är nästan för bra för att man ska våga tro det, när alla delar stämmer och det blir en ren njutning att läsa.« Lotta Olsson, Dagens Nyheter, listar Louise Pennys Mörkt motiv bland sina 100 bästa deckare genom tiderna.
---