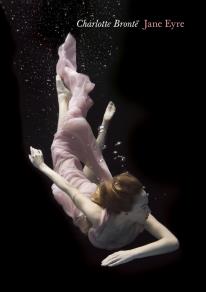 Isbn:
978-91-7499-448-3
Publisher:
Modernista
Category:
Novels
Accessible since:
July 2014
---
Jane Eyre
»Mot slutet är läsaren genomsyrad av all den vrede och våldsamhet och det geni som är Charlotte Brontës.« | VIRGINIA WOOLF

Jane Eyre är historien om en föräldralös flicka som tack vare sin självständighet tar sig ur ett liv i förtryck till att bli en oberoende kvinna.
Jane växer upp med hjärtlösa släktingar och tvingas gå i en skola för fattiga. Efter några år blir hon lärare på skolan, men lämnar den när hon blir erbjuden en ställning som guvernant på Thornfield Hall, ett gods som mest liknar ett medeltida slott. Dess ägare, mr Edward Rochester, blir hennes kärlek.
Så visar det sig att Rochester är gift och att han håller sin »sinnessjuka« fru inlåst i en avskild del av slottet. Jane tvingas till ett svårt beslut.

CHARLOTTE BRONTË [1816-1855] var en engelsk författare, född i Thornton i West Yorkshire. Hon hade fem syskon, av vilka två var författarna Emily och Anne. Flera av Charlotte Brontës romaner hör till den engelska litteraturens klassiker. Av dessa är Jane Eyre utan tvekan den viktigaste. En kärleksroman och en lek med det skräckgotiska, under ytan en hård verklighetsskildring sedd ur kvinnans perspektiv. Jane Eyre gav upphov till det världsspridda feministiska begreppet The Mad Woman in the Attic, en symbol för kvinnans inspärrade fantasi och tänkande. Verket gavs ut under pseudonym 1847 och har fängslat alla generationer läsare sedan dess.
I översättning av Ingegärd von Tells.


---